Asantehene, Otumfuo Osei Tutu II and his wife, Lady Julia have been invited to attend the coronation of His Majesty King Charles III and Her Majesty The Queen Consort in London on May 6.
A statement signed by the Chief of Staff of the Manhyia Palace, Kofi Badu noted that "Otumfuo Asantehene and Lady Julia will join monarchs and global leaders from across the globe who will assemble at Westminster Abbey for what is expected to be a feast of pageantry marking the first coronation in over 70 years".
It stated that the invited guests will be received by King Charles in a private audience at Buckingham Palace on May 4, 2023.
"They will also attend the King's official reception for overseas guests on May 5, 2023," the release added.
The presence of Otumfuo Asantehene and Lady Julia at this historic event demonstrates Ghana and the United Kingdom's close relationship and mutual respect.
It also recognises Otumfuo Asantehene's status as a revered traditional leader in Ghana, as well as his contributions to the advancement of cultural heritage and international relations.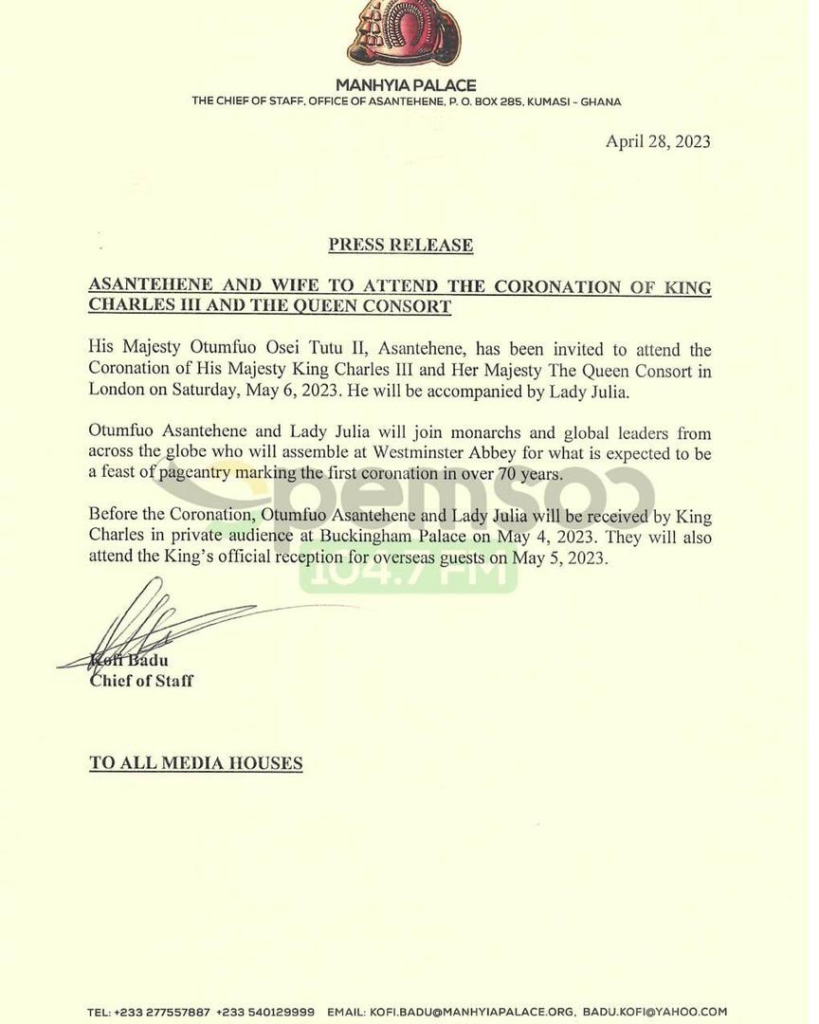 When King Charles' mother, Queen Elizabeth II, died in September at her rural Balmoral home, he ascended to the throne immediately.
He was formally proclaimed Britain's new monarch in the days that followed, and his coronation is finally here, after months of meticulous planning.
Charles III, who has been heir to the throne for 70 years, will be officially crowned on May 6 in a magnificent and deeply religious ceremony.
Source: MyJoyOnline.com